Our Culture
At RXIL, we are passionate about delivering technology-backed solutions that are sustainable and scalable in formalizing access to capital among credit-starved small businesses in India. Innovation, integrity, and insight are ingrained in our culture and reflect how we work, provide our solutions, and serve our clients. The team at RXIL continually strives to challenge the status quo and solicits ways to deliver more value to our clients. Being an enriching and vibrant workplace, working with RXIL offers professionals an opportunity to make a meaningful impact in the financial services industry while pursuing fulfilling careers.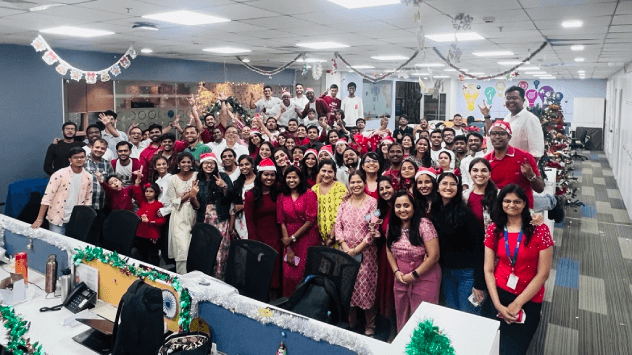 Celebrations at RXIL campus.
Why RXIL
We at RXIL, strive to achieve excellence in all we do. We are guided by our strong values of Innovation, Collaboration, Accountability, Respect and Excellence, which are extremely essential to who we are as a company. We believe in building a diverse and inclusive workspace for our employees where we push boundaries and seek creative ways to solve problems by supporting and collaborating with one another. We continuously strive to create a space where our employees of all religions, ideologies and cultures can contribute and thrive as their authentic selves. At RXIL, we believe that everyone has the right to be treated fairly and given equal opportunities, no matter what their gender is. This includes ensuring equal opportunities for both women and men. With 40% female employees who are exceptionally contributing to RXIL's growth, we are closer than ever to achieving a gender balance that benefits everyone.
Perks and Benefits

Flexible working hours
Medical insurance

Rewards and recognition

Term life insurance

Menstrual leave

Regular coaching & mentoring sessions
Open door culture

Cross functional / department exposure

Employee engagement activities
Training and skill development
Current Openings
We are looking for skilled people to join our team!